Flexpress
Band op grafiet basis
---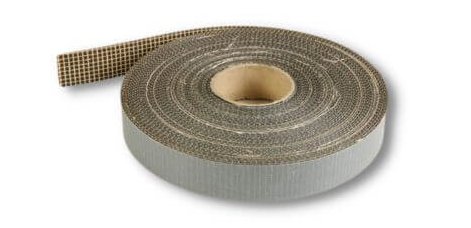 Productbeschrijving
Flexpress 100 is een bij brand sterk opschuimend band op grafiet basis en bevat geen vezels en halogeen. Het materiaal expandeert bij brand drie-dimensioneel en blijft uitzetten bij hoge temperaturen (> 900°C). Unieke eigenschap van Flexpress is dat het bij lage temperatuur begint met opschuimen (vanaf 130°C) en dat de opgeschuimde massa zeer compact/stevig blijft bij brand.
Testcertificaat
ABZ no. Z 19.11-1488.
Producteigenschappen
| | |
| --- | --- |
| Bouwstofklassering |  DIN 4102 B2 (naar DIN 4102, deel 1) |
| Start expansie bij |  ongeveer 130°C |
| Expansievolume |  > 25 voud |
| Soortelijk gewicht |  ongeveer 1,2 kg/dm³ |
| Expansiedruk |  > 0.7 N/mm² |
| Kleur |  zwart |
Toepassingen
Flexpress 100 is speciaal geschikt voor de volgende toepassingen:
Afsluiting van ruimtes achter brievenbussen, luchtroosters, stekkerdozen en in een brandmanchet
Afdichting van ruimtes rondom metalen pijpen, pijp- en kabeldoorvoeren
Voor het afsluiten van gaten, scheuren, spleten, holle ruimten en voegen
Afdichting van aansluitingen tussen wand en plafond/vloer
Leverbare afmetingen
Flexpress 100 kan geleverd worden op rol en strook, ook leverbaar met een kleeflaag en een PVC- of aluminiumlaag.
Dikte: van 0.8 tot 2.5 mm
Breedte: van 9 tot ongeveer 340 mm
---
Dornex BV
Opmerking: De informatie in dit document is gebaseerd op onze kennis en ervaring tot nu toe. Deze informatie ontslaat de gebruiker niet van de verplichting om onafhankelijke tests en proeven te doen i.v.m. de verschillende invloeden bij de uitwerking en toepassing van ons product. Het is niet mogelijk om bepaalde eigenschappen of geschiktheid van de product te garanderen in een geval van de concrete toepassing op basis van onze informatie. Alle beschrijvingen, tekeningen, foto's, gegevens, voorwaarden, gewichten etc. opgenomen kunnen wijzigen zonder voorafgaande aankondiging.